Periodistas que puedes seguir en Google+
Por Esther Vargas
Publicado el 27 de julio del 2011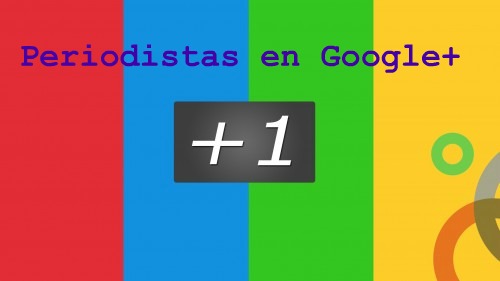 Nicholas Kristof, Arianna Huffington, Susan Orlean, y más de 100 periodistas de medios, sobre todo, estadounidenses, ya se encuentran en Google+. Algunos, según pudimos constatar, apenas han creado sus perfiles, pero la mayoría ya está participando activamente en la red social. A continuación la selecta lista de Muck Rack para que sumes a tus círculos.
Chris Hardwick, Wired
David Pogue, New York Times
Nicholas Kristof, New York Times
Arianna Huffington, Huffington Post
Jenna Wortham, New York Times
Susan Orlean, The New Yorker
Paul Kedrosky, Bloomberg News
Jake Tapper, ABC News
Darren rovell, CNBC
Ezra Klein, Newsweek
Brian Stelter, New York Times
Nick Bilton, New York Times
Alexis Madrigal, The Atlantic
Jemele Hill, ESPN
Cindy Boren, Washington Post
Jim Long, NBC News
Ali Velshi, CNN
Clayton Morris, Fox News
Hiroko Tabuchi, New York Times
Simon Dumenco, Advertising Age
Lance Ulanoff, PCMag.com
Felix Salmon, Reuters
Ben Parr, Mashable
John Markoff, New York Times
Steven Levy, Wired
Jemima Kiss, Guardian
Adam Ostrow, Mashable
Rick Klein, ABC News
Brad Stone, Bloomberg BusinessWeek
Caroline McCarthy, Google's Think Quarterly
Charles Arthur, Guardian
Kristie Lu Stout, CNN
Julie Banderas, Fox News
Rachel Sklar, Mediaite
Jason Snell, Macworld
Christina Warren, Mashable
Danger Room, Wired
Marc Ambinder, National Journal
Jessica Vascellaro, Wall Street Journal
Jason Hiner, TechRepublic
Alan Colmes, Fox News
Kurt Andersen, Public Radio International
Katie Boehret, Wall Street Journal
Jack Schofield, Guardian
Danielle Dellorto, CNN
Patrick LaForge, New York Times
Kim Segal, CNN
Becky Worley, ABC News
Kat Kinsman, CNN
John Siracusa, Ars Technica
Mark Glaser, PBS
Dwight Silverman, Houston Chronicle
Bill Daley, Chicago Tribune
Lindsay Jones, Denver Post
Mo Ryan, AOL
Virginia Heffernan, New York Times
Arash Markazi, ESPN
Derrick Goold, St. Louis Post-Dispatch
Farhad Manjoo, Slate
Carolyn Kellogg, LA Times
Rhodri Marsden, Independent
Peter Hamby, CNN
Ari Melber, The Nation
Conor Pope, Irish Times
Steve Inskeep, NPR
Saul Hansell, AOL
Stephen Shankland, CNET
Elizabeth Holmes, Wall Street Journal
Susan Delacourt, Toronto Star
Errol Barnett, CNN
Anthony De Rosa, Reuters
Jennifer Leo, LA Times
John Carney, CNBC
Catherine Rampell, New York Times
Jason Pontin, Technology Review
Ellen McGirt, Fast Company
Margaret Brennan, Bloomberg News
Clive Thompson, New York Times
Brian X. Chen, Wired
Herb Greenberg, CNBC
Bianna Golodryga, ABC News
Jason Chen, Gizmodo
Mark Morford, San Francisco Chronicle
Jacqui Cheng, Ars Technica
Larry Dignan, TechRepublic
Dan Patterson, ABC News
Andrew DeVigal, New York Times
Doug Saunders, Globe and Mail
Nicholas Carlson, Business Insider
Amanda Terkel, Huffington Post
Michael Krigsman, ZDNet
Joanna Geary, Times of London
Joel Johnson, Gizmodo
Ron Charles, Washington Post
Evelyn Rusli, New York Times
Marc Gunther, Fortune
Chris Nuttall, Financial Times
Adam Lashinsky, Fortune
Liz Heron, New York Times
Mark Milian, CNN
Dylan Tweney, Wired
Kit Eaton, Fast Company
Lydia Polgreen, New York Times
Shane Richmond, Telegraph
Gillian Shaw, Vancouver Sun
Elizabeth Tenety, Washington Post
Publicado por:
Periodista. Directora de Clases de Periodismo y La Ruta del Café Peruano. Consultora en Social Media. Editora web del diario Perú21 del grupo El Comercio de Perú. Especialista en periodismo digital, comunicación digital y social media.
Sígueme
Las sesiones online, tal y como las conocíamos, son historia. Ya no nos "conectamos" a la red; ahora vivimos en la red, conectados en todo momento.
28-10-16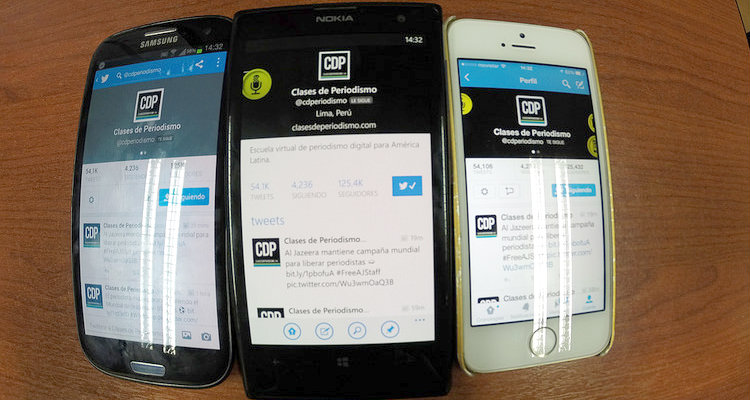 En Argentina, Chile, Colombia, México y Perú, un estudio de TNS para Google revela que entre 32% y 45% para "saber sobre un tema".
Se trata de usuarios que viven en América Latina principalmente como Argentina, Chile, Colombia, México y Perú, informa Google.
31-07-16
Google —informó Mashable— no superó las expectativas de ganancias que se planteó al termino de tercer trimestre fiscal. En su último reporte hay pérdidas debido a la inversión tecnológica en sus sistemas.
20-10-12